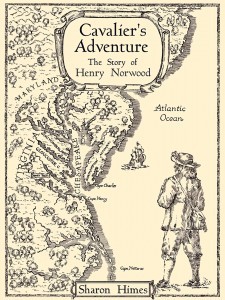 Henry Norwood survived a perilous voyage across the Atlantic only to be stranded on an isolated island in the winter of 1650.
Cavalier's Adventure is a true story told through text, maps and illustrations, interspersed with Norwood's original comments.  It is a book of adventure and intrigue that tells of the history and real people who lived through a unique time period.
Henry Norwood, a young Cavalier in the service of the exiled King Charles II, left England sailing on a ship to Virginia. For months passengers barely survived storms and starvation. Finally close to land, Norwood joined a party going ashore for provisions, only to be left when the ship departed without them. In the bitter cold of mid-January nineteen people found themselves on an uninhabited barrier island with no shelter and little food.
They chose Norwood as their leader.
UPDATE 2017
I wrote Cavalier's Adventure in 1998 and it is currently out of print (although I have a few copies). In May 2017 I visited Gloucestershire in England to visit sites from the book and continue research there. I am currently in the process of expanding and updating the book with new information and illustrations for a second edition.  I am aiming for a summer 2018 release date.