It seems as if the March winds blow the little goldfinches to our corner of the forest. They arrive in flocks, chirping and singing their twittery songs as if excited to find our feeders and birdbaths.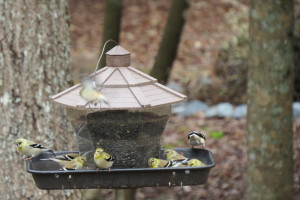 he males have barely begun donning their brighter gold feathers so most of the birds are duller greenish gray this time of year. They scuffle and hop from feeders to nearby trees and back. Then a group will descend on the birdbath for a drink, trying to keep balance on the glazed ceramic edge as they take turns bobbing up and down like 'drinking duck' toys.
At some invisible signal the flock will fly off into the deeper forest for a while and later return when the winds blow or dinner calls.